September 5th, 2013 by

Mommy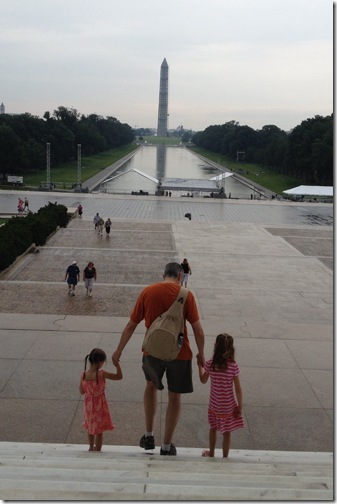 What did you do for your summer vacation? We really hope someone asks Emily this question when she starts school in the fall because she has a lot of cool things to pick from. We combined visiting two sets of family into one vacation and a few sightseeing things between them.
First we drove to Connecticut to visit cousins. We did lots of swimming and a few sight seeing adventures including the Statue of Liberty. After leaving Connecticut we spent an evening and morning in Washington D.C. taking in a two museums and several monuments. Then, we caught a train in northern Virginia and travelled to Florida, sleeping one night on the train. The next part of our vacation took us to the kids' Grandparent's house in Miami and a visit with more cousins. We made one trip into the Everglades between rain showers. The last stop of the trip took us to Orlando to play and swim a bit more.
In total we traveled for two and a half weeks and saw 14 states and cousins. Julia traveled through two states for the first time. The best thing we collected in our travels were great memories of time that we spent together.
Posted in Emily Pics, Julia Pics |

Comments Off on Summer Vacation 2013