January 23rd, 2013 by

Mommy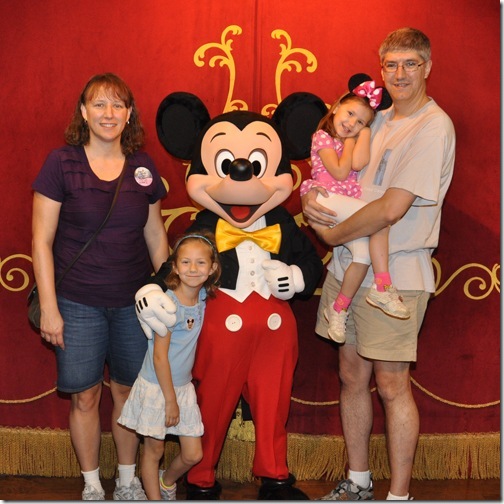 Last October we took a family vacation to the Disney World. We had a great time and it was a magical time. The magic really comes from the excitement of two little girls and their parents. A week of playing and seeing new things together was great. The girls are ready to go back immediately!
How we found our room when we got back one evening.
We stayed in the park at the All Star Movie Resort. It worked well for our needs. The section we were staying in was based on 101 Dalmatians and it created a lot of discussion, mostly from Julia. She called it the puppy hotel. She also gets the name of the movie incorrect and calls it "one Dalmatian puppies".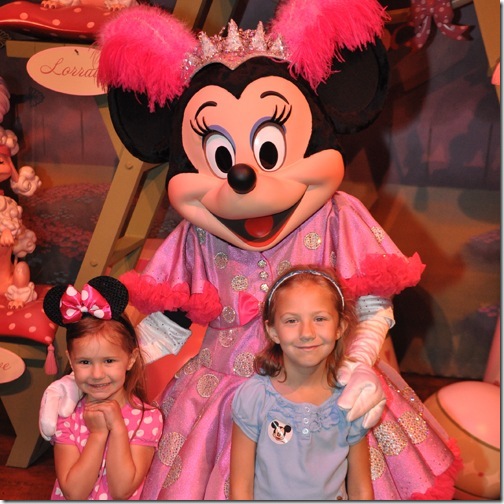 If you ask the girls what their favorite rides were they are likely to say one of these: Dumbo, Buzz Lightyear Spin, and the classic It's a Small World (which Julia called the boat ride). If you ask their parents they would tell you that Julia's favorite ride was "It's a Small World" and Emily's favorite "ride" was finding princesses and getting her autograph book signed. The parent's favorite ride was Midway Mania at Hollywood Studios. While we waited in line for rides and to see characters Emily would draw in her autograph book. On one page she drew each of the princesses she met at the park.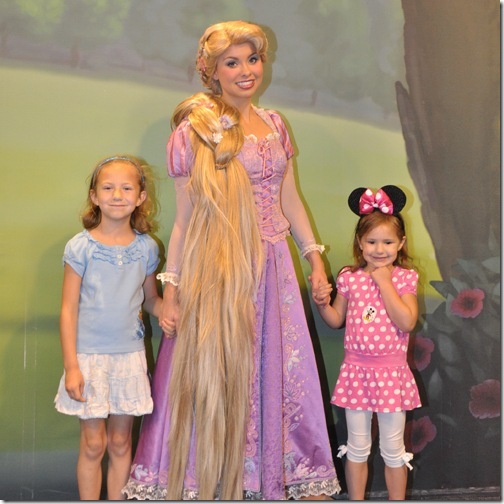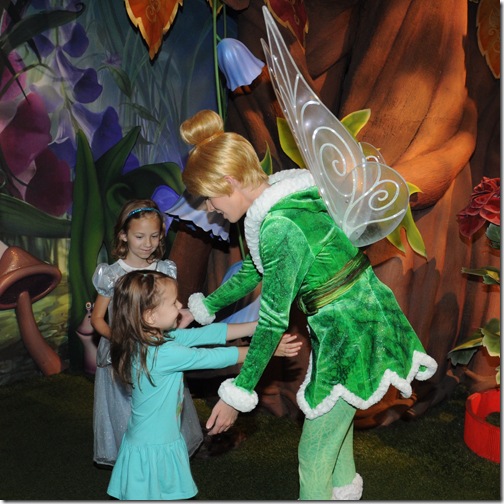 We spent one day each at Epcot, Animal Kingdom, and Hollywood Studio. The rest of the time we visited at the Magic Kingdom. Grandma and Grandpa joined us for three days of the visit. It was a great to share the sights with them. Some of the days we visited we pushed Julia's nap back, some days she took a nap in the stroller as we visited, and some days we bailed and took a nap at the hotel. One day Emily was pretty sick and crashed after lunch. For that evening Robby and Julia returned to Magic Kingdom and enjoyed the park on their own. Being flexible seemed to work well for us.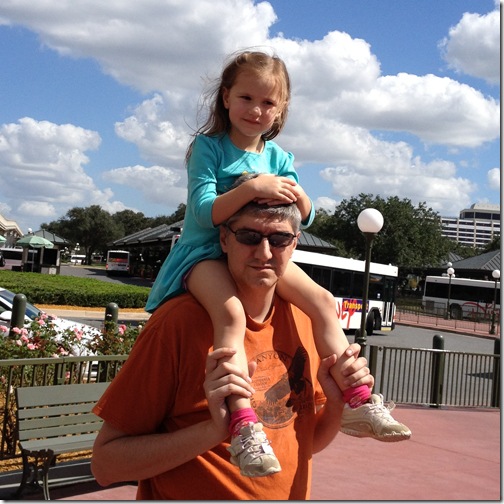 The longer we stayed at the park the more of the overwhelming feeling seemed to leave the girls. The first day they were just not sure of what to make of it all.  Mama loved how excited the girls got every time they saw Cinderella's castle as we approached the park, the serious conversations that Emily had with the different characters, the fun names Julia gave things, and the low stress family time we enjoyed.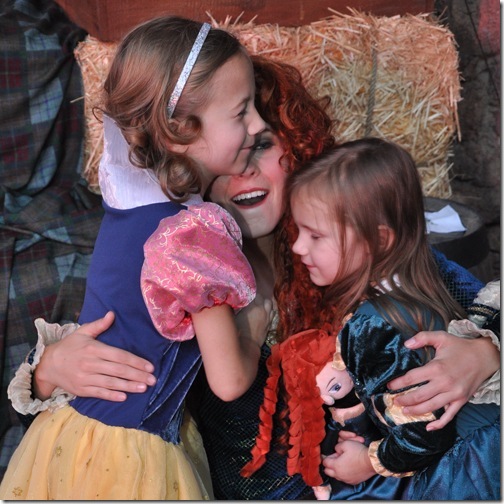 Julia kept a shyness of the characters through the whole trip. Many of the character meetings required encouragement for her to pose for her photo and meet them. Some she wouldn't approach at all, some she was brave if Daddy was there, and a few she was so excited to meet that she put her shyness aside and blossomed with complete joy. The most tender greeting were with Rapunzel, Aurora, Minnie Mouse, Daisy, Merida, Tinkerbell and Pluto. Emily was herself with the characters. This meant that she would approach them and give them hugs and made conversation with them. She never was done talking with them. It was like catching up with long lost friends. Overall we saw 25 characters between all of the parks.
Park Highlights:
Magic Kingdom –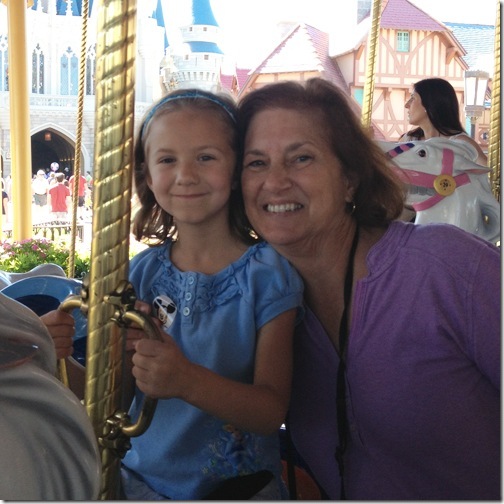 Julia's 4th birthday celebration was at Cinderella's Castle, we were seated for the last seating for the day so we were not rushed out. It was a great end to an amazing birthday day at the park.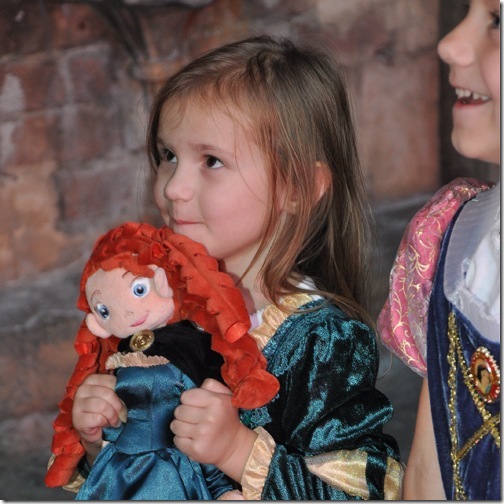 Julia sang "It's a Small World" while we rode the ride

countless

times.
Emily had her first 3D experience and loved it. Robby had to catch her before she grabbed the woman in front of her while she was trying to grab the floating gems.
Julia called the Buzz Lightyear's Space Ranger Spin ride the "shoot bad guys" ride. Mama can see that the name Disney gave the ride might not be real easy for a little kid. She loved this ride, probably because it was so interactive.
Epcot –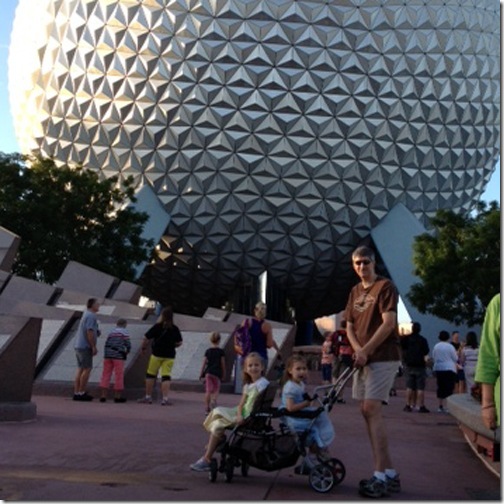 We met Pluto which was the character that Julia kept asking to see. It was worth the wait for the hug and excitement she had.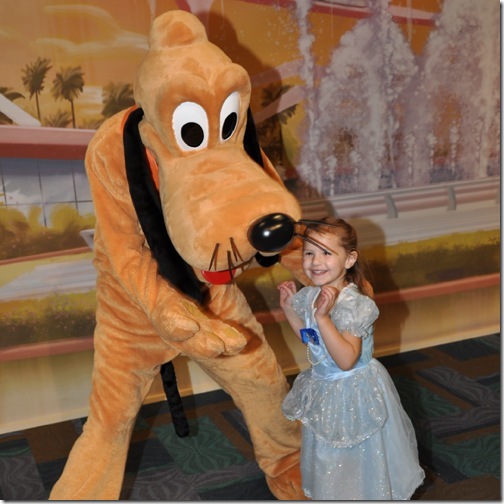 We briefly toured each of the countries to give the overall experience. Julia fell asleep and was carried for several of the countries.
Mama got to meet her favorite character at Great Britain, Mary Poppins.
Emily met Pooh and Tigger also at Great Britain. She hadn't talked much about this meeting and it was not clear that she was excited while we stood in line, but it was the most joy she had at any of the greeting opportunities. She just kept giving each of them such sincere hugs.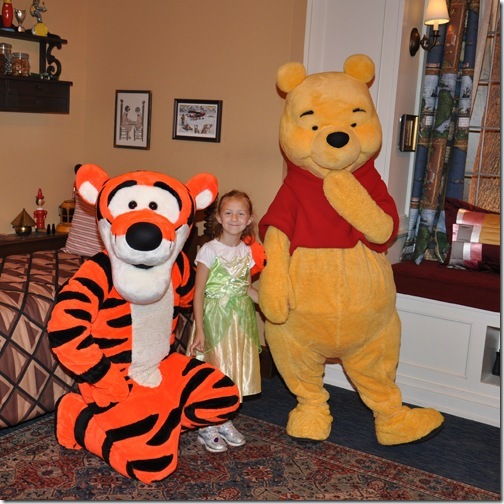 We kept running into Grandma and Grandpa as we travel the world tour. We traveled the same direction, but went at our own paces.
Animal Kingdom –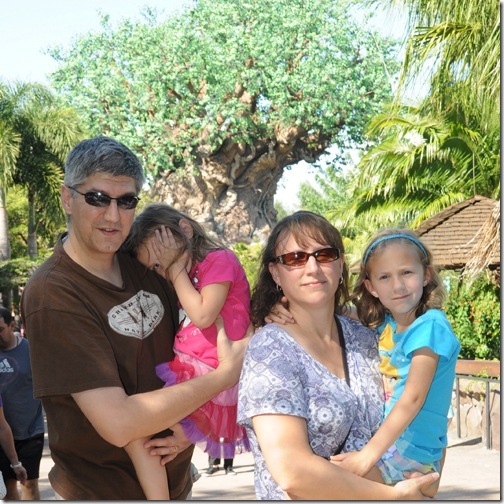 Julia had been shy about meeting the characters at this park, but when she saw Baloo from a distance she was curious and wanted to meet him. She is not familiar with the story, but stood in line and went right up to see that big bear. She wouldn't approach King Louie though.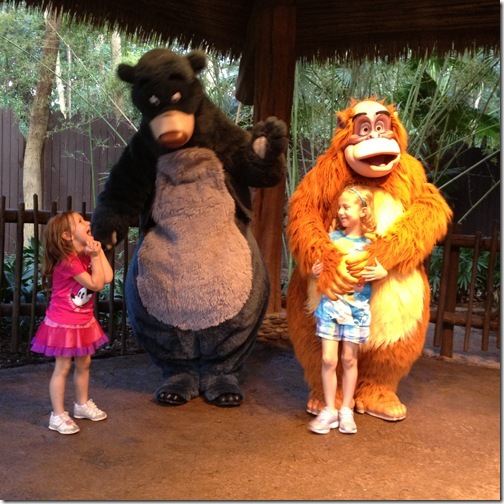 Last day with Grandma and Grandpa. Great to see them, but made for a sad day with the girls knowing that we were saying good bye.
Hollywood Studio –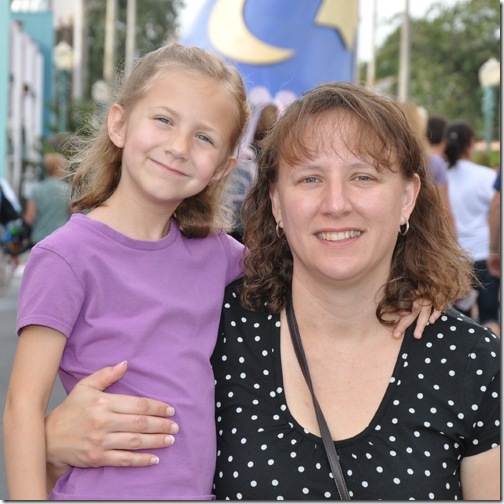 The girls loved the Honey I Shrunk the Kids Playground! We let them play there for a LONG time, but they were never going to be ready to leave.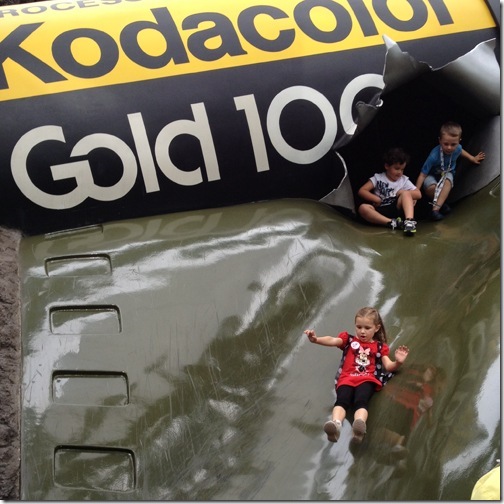 The girls had disposable cameras on this day to document their day from their eyes. They enjoyed the activity, but didn't understand why they couldn't see the photos right away. I guess digital cameras would be better next time.
Mama and Daddy rode the only "adult" ride of the whole trip. We took turns riding the Star Wars ride.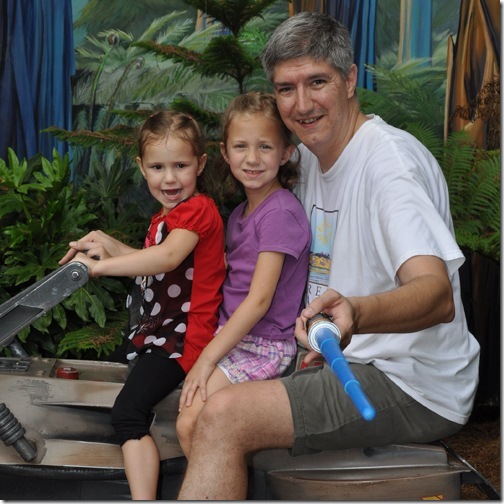 If the line hadn't been so long we could have rode the Midway Mania over and over again. A funny story from this ride was that Emily asked Robby why she had to wear her 3D glasses, because it was not 3D. She thought that things were only 3D when they came toward you, but shooting balls away from the car did not seem to count.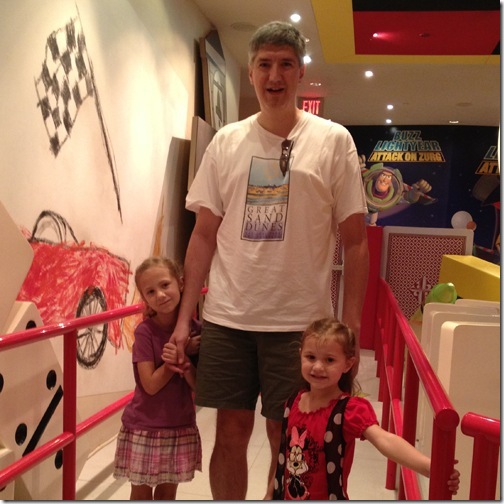 We are looking forward to our next opportunity to return to Disney. It will not be our next vacation, but it will be hard to drive past the park on the way to visit the Grandparents without wanting to stop over for a short visit.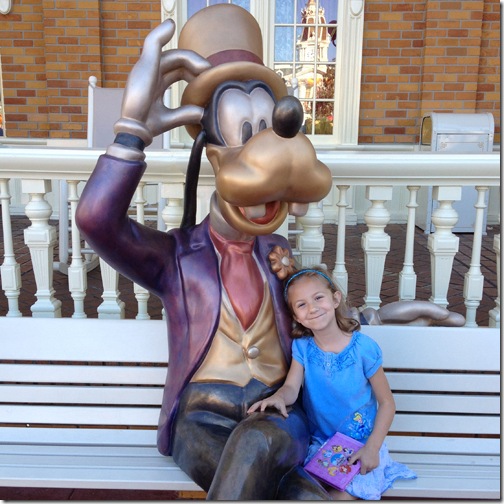 It is almost like Goofy is wishing everyone Welcome or See You Later all a the same time!
Posted in Emily Pics, Julia Pics |

Comments Off on Disney World