October 30th, 2012 by

Mommy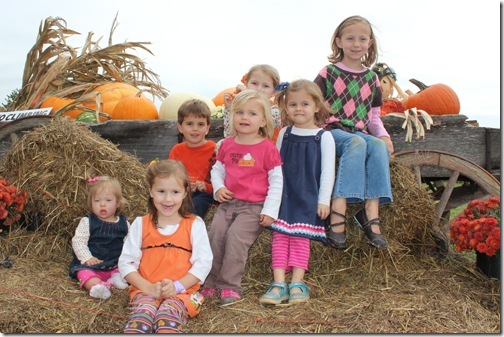 We enjoyed a pleasant fall day together with our friends at the pumpkin patch. The day was fantastic. The kids enjoyed playing and being together. For all the fun things to do at the pumpkin patch the kids seemed to enjoy a big green grassy field just as much as any of the the rest of it. This Mama loved being with both her girls and playing, it seemed just right. We enjoyed their slides, animals, climbing hill, corn maze, bouncing pillow, rolling pipe, lunch, riding a wagon, picking pumpkins, and a bit more sliding.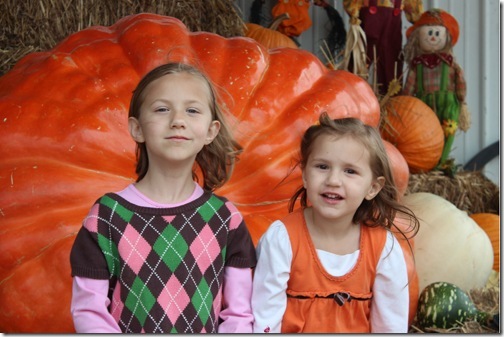 The girls posing for a photo in front of a real pumpkin that was over 1000 lbs. Wow!
The girls worked together to get the very large pipe to move along the track. Natalie was along for the ride and had a blast sliding along. The big girls enjoyed jumping together on the huge bouncing pillow.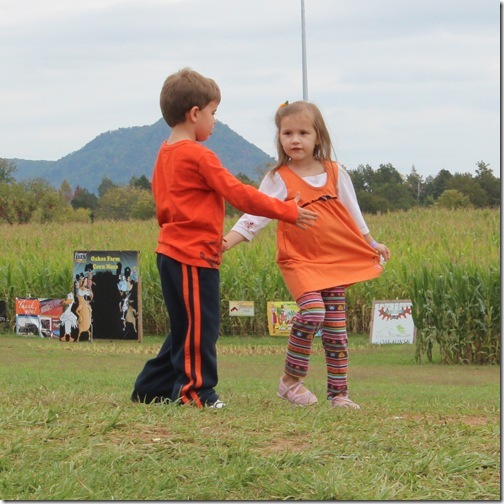 The kids were playing in the field and they decided to dance a little. Julia was thrilled to get to dance with a boy. Aiden was a great sport about it.
I can't imagine a better shirt for Natalie. She shared a lot of smiles with me. Aiden was so excited to get to drive the bike-car. He was awesome at it.
The Mama's got into the sliding action! Julia would race around to get to slide over and over again.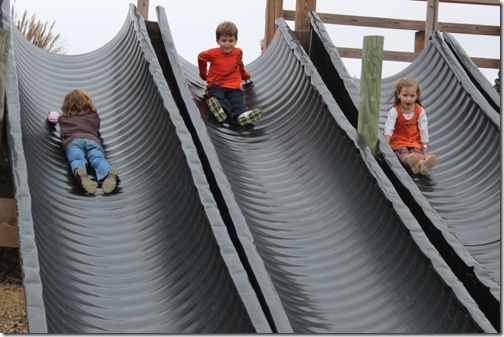 The kids could have raced each other down the slide, but for the most part they went the second they got to the slide. This time they were close to the same start time. Everyone seems to have their own way to go down.
Thea was a good sport for the day. There isn't so much for a crawler to do at the pumpkin patch. She soaked up the sun and gave away smiles. In the corn maze we had to find posts with animal prints to make rubbing of. Eventually and with the help of each other we found them all!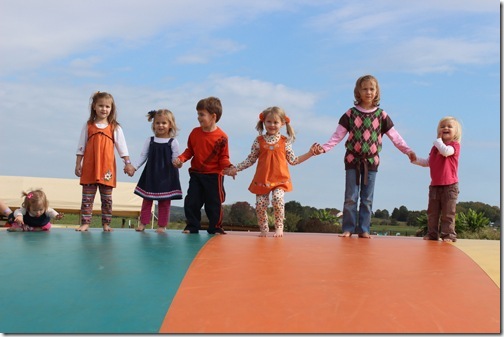 Seven kids standing on a pillow, one started to bounce and . . . grins spilled out!
The height photo is the best grins the girls gave me together in one photo. Julia wanted to find a pumpkin that she could pick up. She had to look a long time because they were all pretty big. All six of the bigger kids in the corn maze all spread out. They were really good to stick together this year.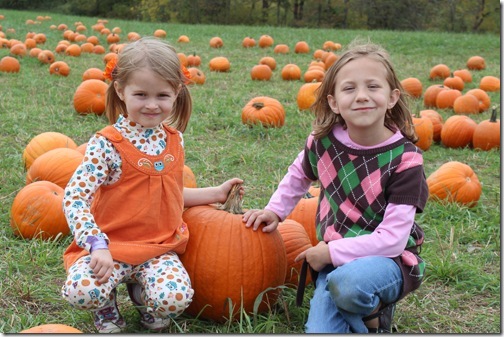 Good friends hanging out by Emily's pumpkin choice.
Maeve shared smiles too. Natalie found herself a chicken to watch. She was so intent while watching. I wonder what she was thinking?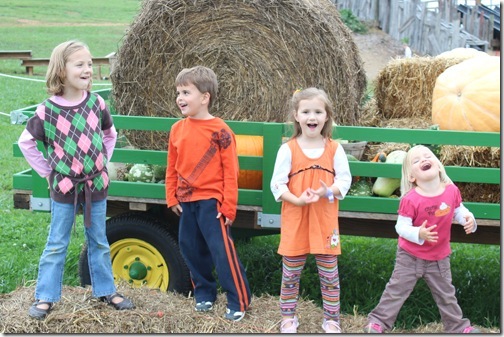 The last laugh of the day. We tried one more photo of the kids together before leaving and got 4 kids to laugh at the same time. A great finish to a great day.
Posted in Emily Pics, Julia Pics |

Comments Off on Pumpkin Patch – 2012