August 9th, 2012 by

Mommy
We stopped on the way home and celebrated a weekend at Jolie's house. Grandma rode up with us and got to visit a bit longer. Mikayla was sweet to share her room with us. All the girls wanted to do was to play with Natalie and Dylan and swim in the pool. They got to do all of these things a lot. On Saturday Uncle Ken and Aunt Cindy came over for the evening and it was great to visit.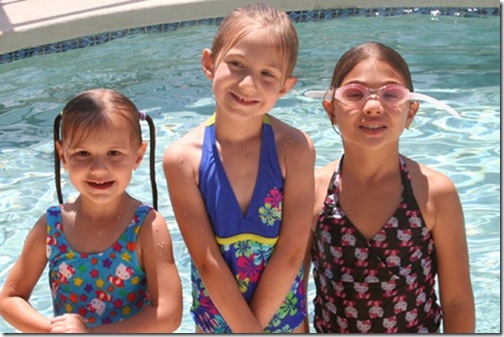 It is great when peer pressure pushes the right way. We had used this visit as motivation for the girls' swimming class and now swimming with Natalie and Dylan wasn't just a reward, but more inspiration. Emily enjoyed being able to jump into the pool at any point with Natalie. Julie refused to be left out of the fun and continued to build her confidence at swimming so she could jump in the deep part too. Dylan, being the lovable rambunctious boy he is, was a bit rougher in the pool and would push off of other people. The girls never seemed to mind his pushing and it seemed to make them better swimmers too. One of Mama's favorite thing from the pool was watching Dylan and Julia swim underwater and be nose-to-nose looking at each other. Just a cute side note – Julia took to calling Nichole, Coaly. It is just her own special name.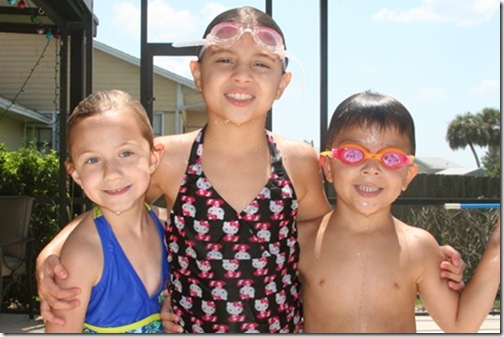 Emily, Natalie, and Dylan – pool buddies. It has been so much fun to watch Dylan over the years become more interested in playing with the girls. It is a little tough being the only boy in the gaggle of girls, but he is doing great with them!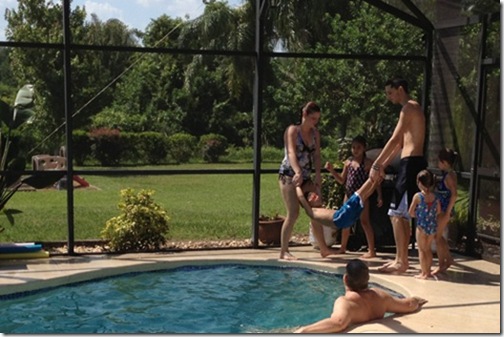 Uncle Ken started a game of throwing the little kids into the pool, for which they all lined up to take turns. The game evolved into Jennifer and Brett swinging the kids into the pool in turn. They loved that game too.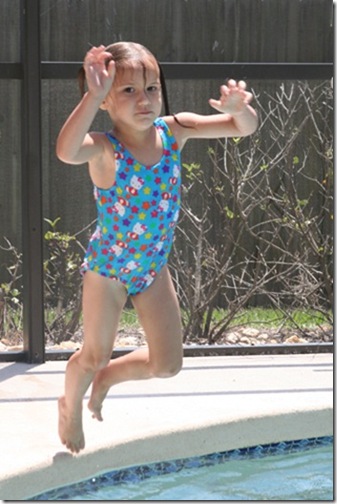 This is Julia's favorite pool game . . . jumping in, getting out, and doing it all over again!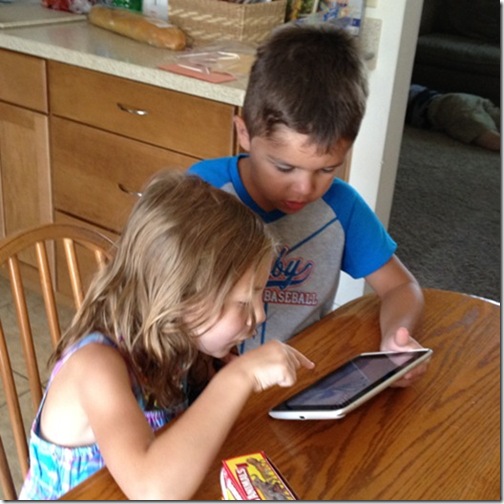 Dylan and Emily bonding over a little tablet movie watching. He was pleased to show Emily a Dragon movie (one of his favorite topics). They sat together enjoying it for quite a while.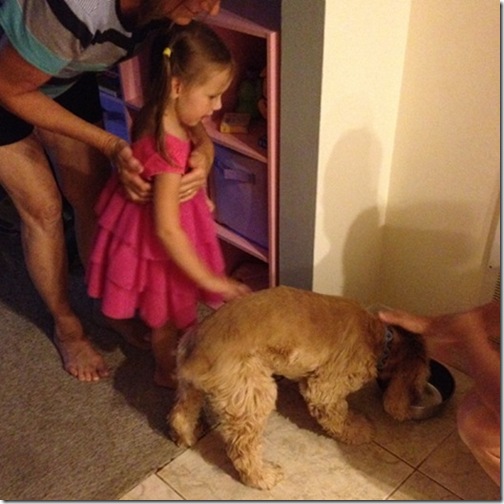 Remarkably, Julia has decided that she likes dogs now. It was like some switch was changed and instead of worrying about if Max was in his cage, she was now wanting to know where he was. She liked to go and speak to him in his cage. She even would seek Max out to pet him. She has asked for a dog and has requested two boy dogs. She is quite insistent on the matter too. We will see, but Mama is pretty sure that when a dog comes into our family there will only be one.
Posted in Emily Pics, Julia Pics |

Comments Off on Last Trip Stop