January 4th, 2012 by

Mommy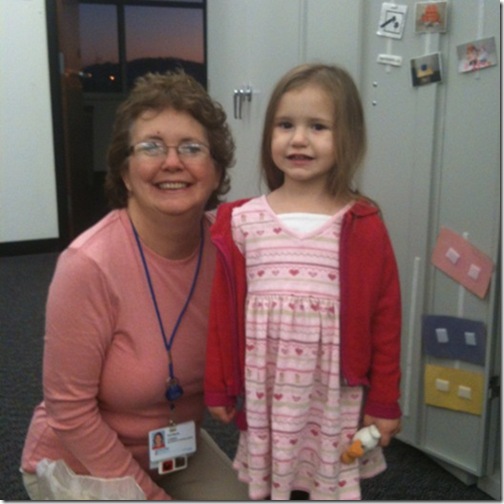 Ms. Patty with Julia – Julia loves to take her stuffed chicken finger puppet named Bawck Bawck with her
Julia has been going to therapy since April and has shown a lot of improvement. She loves her therapist Ms. Patty. Our weekly sessions are early morning and despite being a little on the groggy side, Julia has kept her excitement and joy of going. Their sessions involve speech games and exercises intermixed with good 'ole play. When she arrives for her hour session she gets to pick a toy from the toy cabinet. She doesn't pick the same toy each time, but they tend to be playhouses with fun people and characters.
From not making a two syllable sound and not talking in conversation, Julia now is working on harder sounds of h and blended s sounds. She is willing to perk up and make statements that involve two or more words in conversation. I'm sure we have had improvement because of developmental stages, but the increase in speech has been magnified by her hard work with Ms. Patty.
When Julia turned three she was old enough for the local school system to assist with her speech development. Julia is able to meet with a speech therapist at the local preschool on a weekly basis. Because of going to a private speech therapist and having the ongoing performance tracking and assessments, enrolling Julia in the additional school program was really easy.
Julia has loved meeting with Ms. Trish for her thirty minute weekly session. We can see such an improvement in Julia's speech with the addition of this second session over the last few weeks. It has been a joy to take Julia to her appointments. Emily hangs out with Mama during the preschool therapy sessions and we work on pre-kindergarten activities.
When we enrolled Julia in her preschool therapy we talked about the long term therapy requirements for Julia. Ms. Trish said that by the time Julia starts Kindergarten she would no longer require speech. She thought in a year we would see her speaking equal to her peers. What great news for Julia!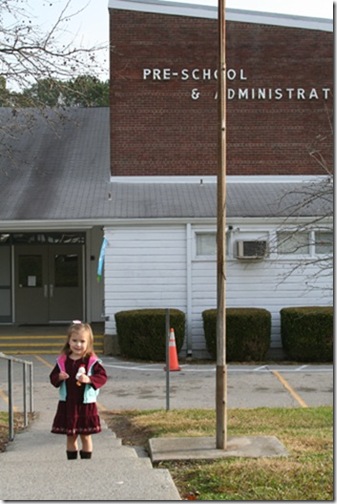 Julia loves being a big girl and going into the Preschool and she and Emily love to run up and down the stairs in front of the building.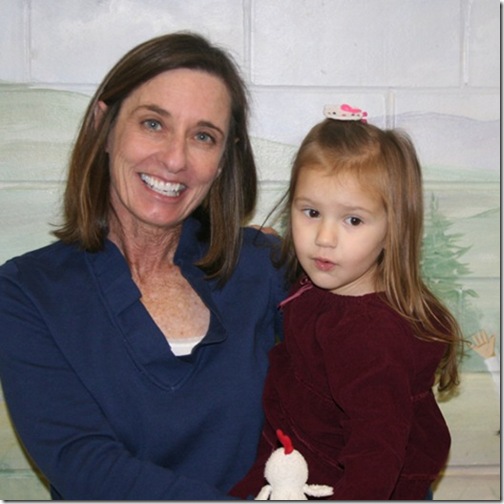 Ms. Trish with Julia – once again Bawck Bawck makes the photo.
Posted in Julia Pics |

Comments Off on Therapy Updates