September 9th, 2011 by

Mommy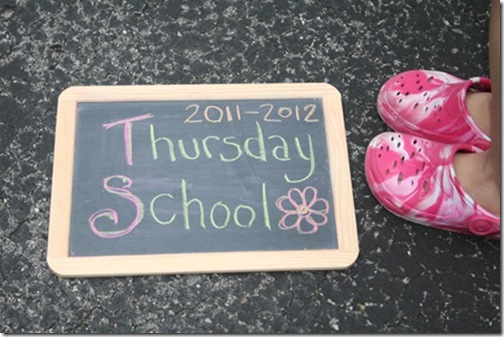 As promised to Emily, when we returned from our trip it was time to go back to Thursday School. When we discussed Thursday School the girls were so excited. Then Wednesday night came and they were wide awake at bedtime due to excitement. They were excited to see their friends at school and we talked about several of them.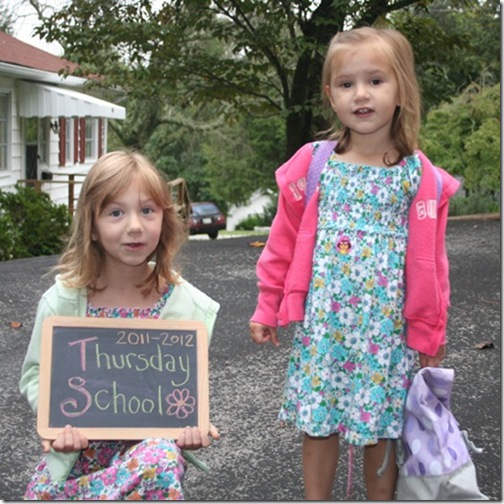 Thursday morning came and Julia got up for her therapy session and Emily was sound asleep. When it was time to wake up to get ready for school Emily didn't want to. She was tired and wanted to stay asleep. I knew this would happen in her life, but I was hoping for something closer to Middle School, not a preschool mother's day out class. When she did get up she just moved to the living room and laid back down saying that she was stretching. Ha! All normal morning drama aside we did get to school right on time.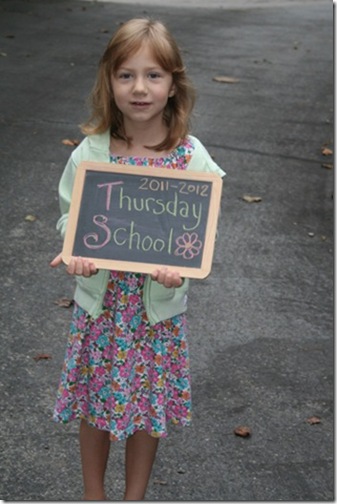 Emily's class is the oldest class in the program. Most of the kids in the class are familiar to her from last year, but the teacher changed as did the classroom. She is a little uncertain about the changes. A day later, she is still talking about wanting the things that were familiar to her from last year. When we went into the class our usual outgoing kid held back and took it slow. Even the presence of her best friend in the class didn't warm her quickly to the new situation. I'm sure in a couple of weeks we will be back to the usual bubbly excitement of running to class faster than Mama can keep up, talking non-stop with her friends in class, and the bounce of familiarity with everything. Until then we will just have to be encouraging of trying new things and of change. This is such a great life lesson for Mama as much as for Emily. Change is essential, but in changing we learn about ourselves.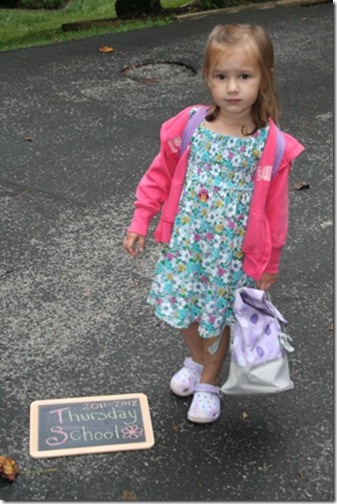 Julia is still in the youngest class in the program. They seem to have fewer teachers this year in the program and have capped the enrollment. Julia too had a deer-in-the-headlights reaction to her class. Her teachers are different and unfamiliar to her, but the classroom location is the same. When Mama dropped Julia off she got clingy and didn't want to join the other kids. Mama left her in the arms of a teacher and didn't look back. I didn't get a phone call so I guess the call of the paint and play-dough won her over. She was SO excited to see Mama at the end of the class. That was identical to last year. In last years class she was one of two girls and it appears that this year the boy/girls mix is much more even. She too has her best friend in her class so hopefully when the Mama's were not looking they played together and enjoyed their day.
Posted in Emily Pics, Julia Pics |

Comments Off on Thursday School