August 31st, 2011 by

Mommy
We went green bean picking at Ms. Tracy's parents house. They were generous and shared with us. Tracy is a fast picker and out picked Mama 4 to 1. The girls enjoyed themselves and a bit of freedom. They played with the tire swing, ran around the yard, played with the cat, and enjoyed the front porch swing. Emily even tried to apply sunscreen to herself so that she wouldn't get burned (something Mama hopes that she doesn't do again for a while). The girls picked about three green beans each and Emily did try eating one straight from the field.
After we finished our work, Ms. Tracy got their horse Jack for the girls to ride. Julia was scared from the start. She would not pet him at all, although we talked to him a lot. Emily was skittish, but did pet him a little. When it came to time to ride we rode bareback. Emily rode first with Mama. Emily was very brave and enjoyed her ride. Before we put the horse back to the barn, we swapped the girls out and had Julia try riding for a few minutes. She was uncomfortable and wanted down at the first chance, but she rode bravely with Mama. Mama is really proud of both of for giving it a chance. Too bad we didn't get a photo of us riding, but we needed to focus on other things at the time.
After the ride, we went back to Tracy's to put up the green beans. Now we have a row of lovely green bean jars and fun memories. Thanks Tracy (and Tracy's Mama)!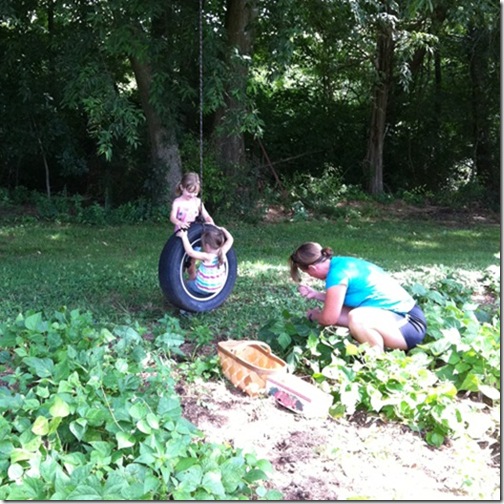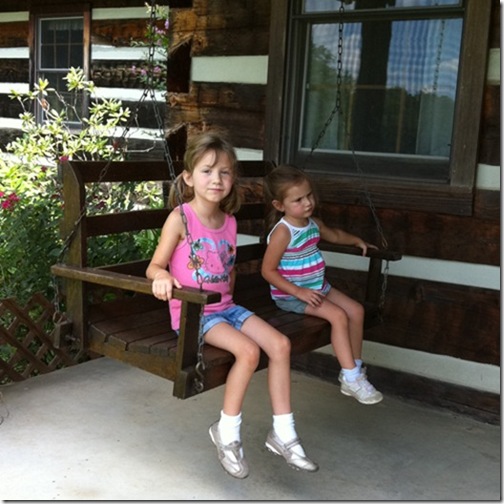 Posted in Emily Pics, Julia Pics |

Comments Off on Green Bean Picking