July 11th, 2011 by

Mommy
Just a few thoughts following our latest trip. We traveled to Connecticut to visit with Uncle Philip, Aunt Jennifer, and cousins Caleb and Nathaniel.
– The slowest moving kid gets most of the photos taken of them.
The number of photos we have of Julia outnumbers the photos of the other three kids combined.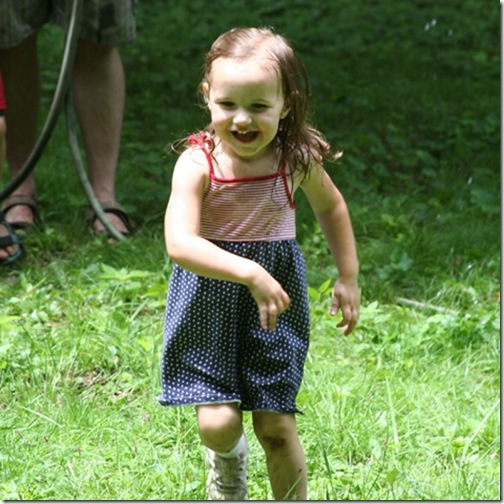 – The camera welding Mama has the least photos taken of her.
Daddy did get the camera a few times and snapped a few shots. Maybe Aunt Jennifer got some too.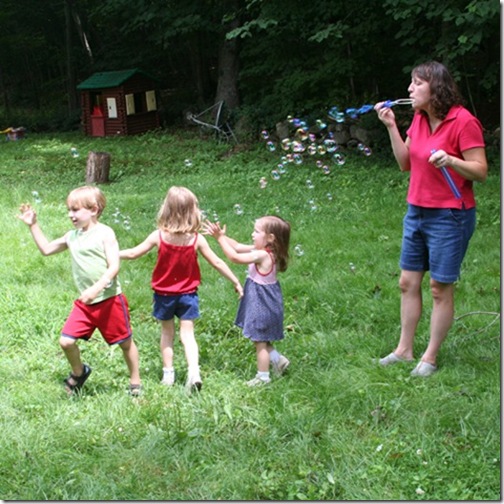 – When in doubt, add water.
Hose, pool, or ocean it didn't matter they got excited with all options.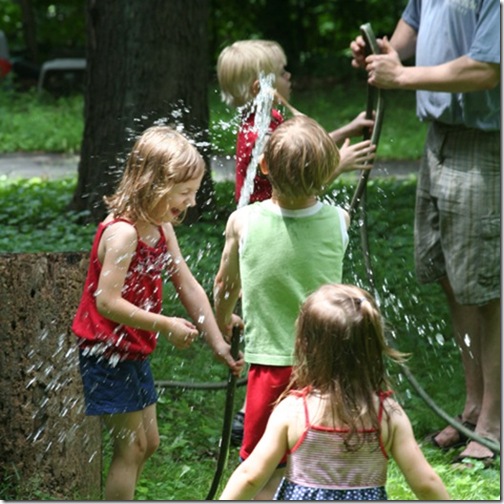 – Do boys and girls mix like oil and water? No
They all loved to run and chase each other. The boys favorite game was to make Aunt Rachelle into the "Tickle Monster" and run from her. Everyone wanted to sit next to a cousin when we sat to eat. Need a chair? Sit on a kid.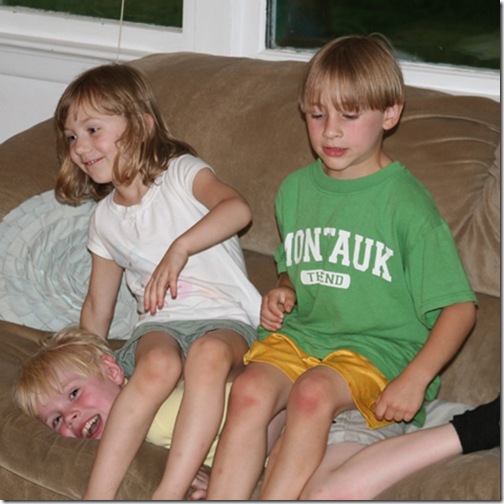 – Are Star Wars Legos only for boys? No
The girls played with Caleb's Legos and he was so patient to let them even though they majorly rearranged his setup. The Princess Storm-troopers can sure move fast when evading photographic capture.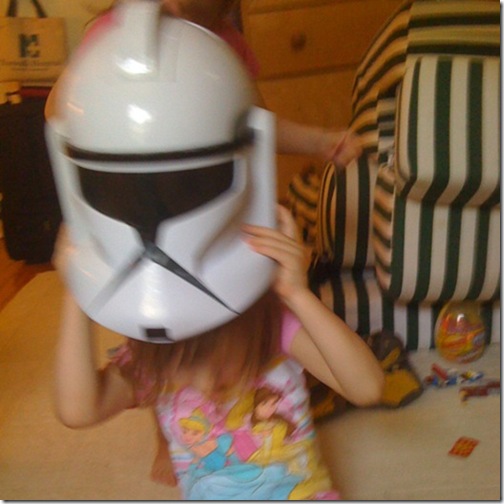 – If you are bored with your own toys, go on a trip and when you get home they are fresh and new again.
– Is grocery shopping hard work? Not when there is free samples and singing displays around every new corner.
We had our first experience with Stew Leonards. The kids and parents ate free samples – cookies, popped rice snacks, fresh donuts, sparkling drinks, chicken salad, fruit, and juice. It felt like a meal, but we also got lunch at the end. Everything was good and it was lots of fun to see all of the displays and be entertained by dancing veggies, fruit, butter, trains, lighthouses, talking cows, and much more.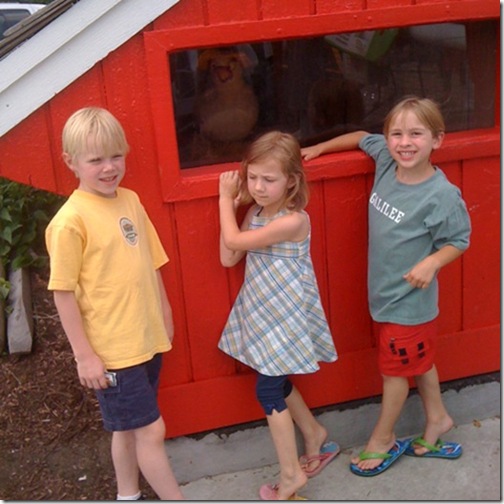 – Did you pack an extra outfit? If yes, then all messes will be controlled. If no, a tumble into the ocean will occur and a child will have to be wet for the evening.
Yes, Julia took a tumble into the ocean while we attempted to get a 4-kid shot taken. No, her Mama had not brought her a change of clothes. Thank goodness her Mama did have a beach towel. It wasn't long before the damp and still sandy girl was running around playing with the other kids again.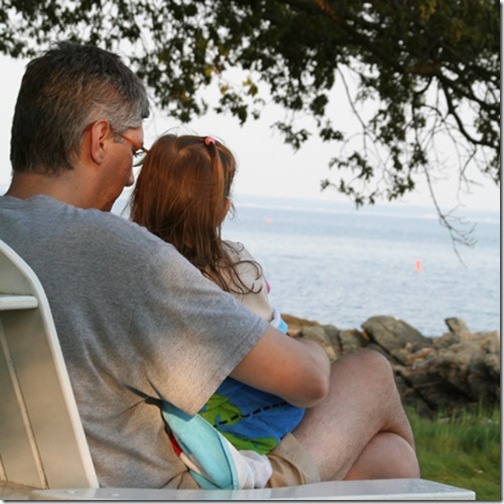 – When given the choice between a real animal to watch or an animated one which will a kid choose? Depends on the kid, but if the animated one has a button to make it talk the real animal might lose out.
Outside of Stew Leonards they have some live animals for viewing. The day we were there it was two older calves, sheep, and turkeys. We looked at the animals and read the information about them. What kept the kids most interested were interactive exhibits of pretend animals making noises. I guess they liked pushing the buttons.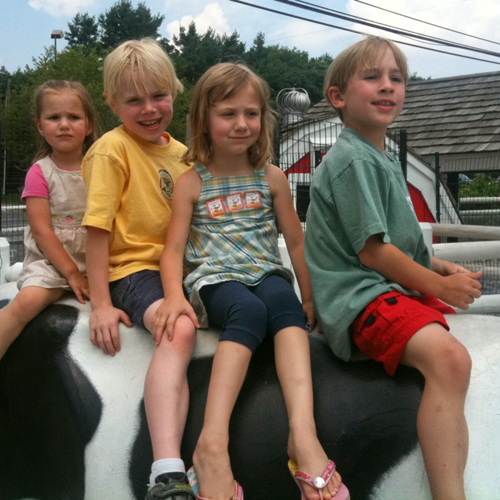 – Do all hotels have free breakfast waffles and heated indoor pools? No, but when we stay at one we will have very sad kids.
While we drive down the road now, Emily is reading all the billboards and hotel signs for ones she recognizes. She loves staying at hotels and we have been careful to stay at ones with pools and breakfasts. She is now considering the name of the hotel that she wants to run when she grows up.
– Who gets most excited at a Toy Museum? The parents remembering their childhood toys.
We stumbled into a Toy Museum while we waited out a rain storm at Natural Bridge in Virginia. It was interesting to see the displays of toys that we played with in our youth. The girls loved looking for things that were familiar to them. It was tough to keep the girls' hands off of the fun looking toys.
– Kids rarely take nap in the car at the same time. Their naps almost always happen right before arriving at a location.
The point of this trip was to visit with family, not a bunch of stops along the way. But, we had planned on a few stops. One of our "planned" stops was hampered by Julia falling asleep two exits before the destination. If we had woken her up she would have been grumpy and not fallen back asleep. Instead we stopped for gas and food and kept on going.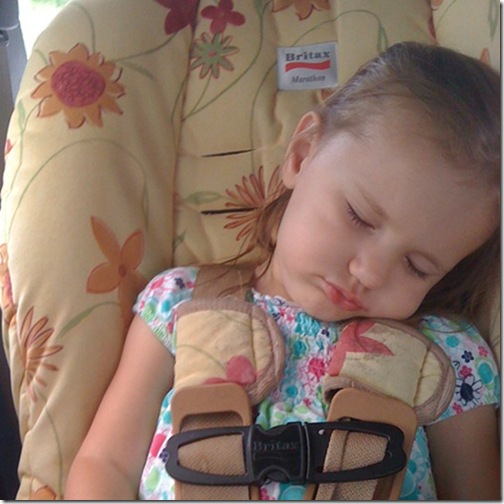 – First-Aid kits are necessary for two-year-old's knees.
Goodness, it seemed every time we turned around Julia was coming to us with a skinned knee. The poor think kept skinning the same spot too. Good thing she doesn't mind the band-aid process.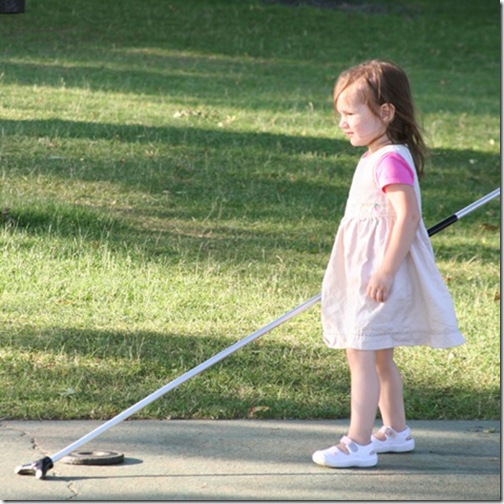 – Top bunks are cool!
The top bunk was a favorite indoor play place. They would drag all kinds of toys up on it and play pretend games. Julia did a great job of obeying the rules of the top bunk. She would wait until an adult came into the room and then she would bolt up the ladder to the top. Emily was privileged to spend her naps on the top bunk. How we didn't get a photo of the top-bunk play is a mystery.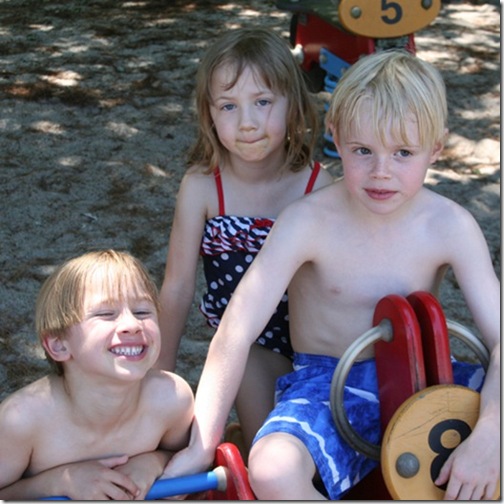 – If you are taking a tour of a cave, take a flashlight with you. It will be the envy of everyone who forgot theirs.
We took some kids flashlights in the car for when we were traveling after dark. They enjoyed playing with them and for the most part obeyed the rules. When we went into the caverns at Natural Bridge, we noticed that they were selling (very expensive) kid flashlights. Robby fetched ours from the car and the girls got to take them on the cave tour. They were really handy for all of us to see better where we were walking.
– Check the hours for the dining line before you make plans to eat there. Addendum to rule, ice cream is always a great substitute for missed meal.
Perhaps the opportunity for most fun on a trip is willing to be flexible and do things out of the norm. Would we not normally have ice cream for lunch, but what a fun thing for us to do. It gave us a fun rainy day activity and we ate and laughed.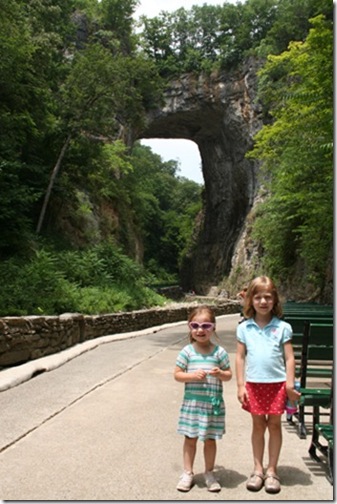 – Getting a "staged" photograph of a bunch of kids is never easy.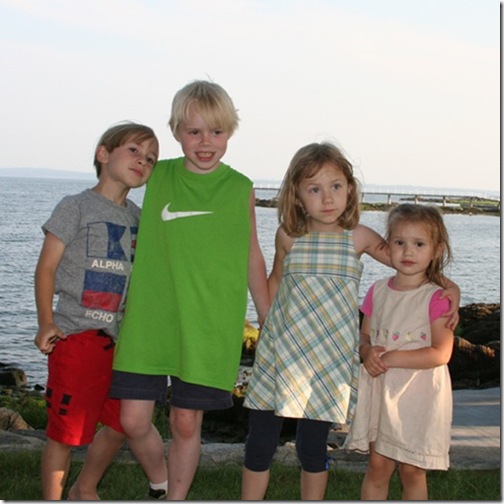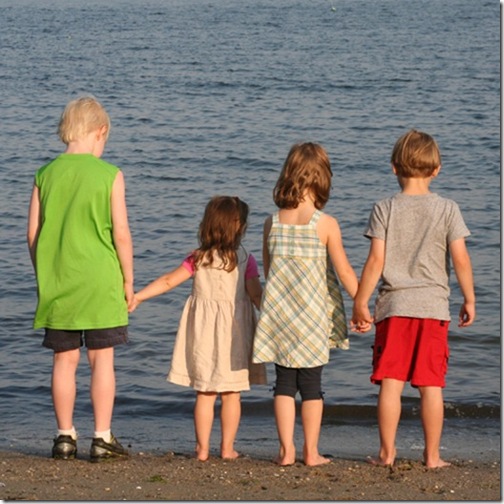 Posted in Emily Pics, Julia Pics |

Comments Off on Travel Truths