March 15th, 2011 by

Mommy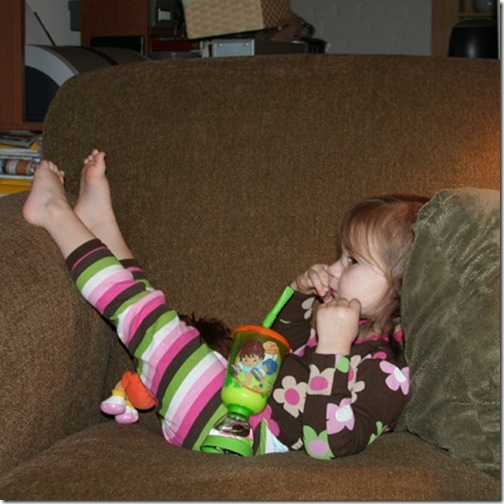 Julia was taking it easy and watching some TV. She didn't stay like this for long, but long enough for her Mama to take her photo. She does some pretty cute things these days.
We took Julia to visit her pediatrician to discuss her speech issues today. He set up a consult with an ENT at our Children's Hospital next Tuesday. Also, we will be doing some speech testing with a speech therapist to see what her needs are. We are excited to see what is in store. Emily has been cute, she told me that she was going to teach Julia how to talk. It was very sweet that she was thinking of her sister.
On a side note, Julia measured at 26 lbs. and 34 + inches (mama doesn't remember the exact size). Given Julia's refusal to drink milk out of a sippy cup, I was curious to see if she had held her own for weight. Oddly enough, she has risen a few percentile points since her last check-up 5 months ago. The doctor was pleased and told me to stick to my plan to move her to sippy cups.
Posted in Julia Pics |

Comments Off on Post Pediatrician Update