February 21st, 2011 by

Mommy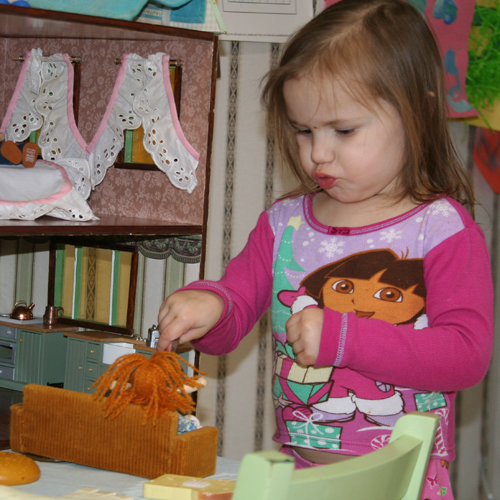 Notice that Julia's mouth is imitating how she is imagining the Mama eating the food off the spoon. I love it!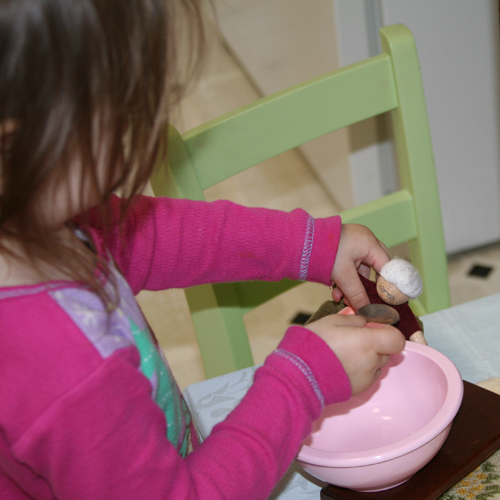 (27 months) The girls are always finding new things to play and making new favorite games. Julia has been exploring the dollhouse in the last week in new ways. At Christmas when we got the dollhouse she was more interested in dropping pieces down the stairwell or inspecting each piece.
This last week she has become very interested in playing with the dolls and the furniture. One game she plays is to go to her play kitchen and "fix" a bowl of food and then take it to the dollhouse. She takes turns feeding the different dolls with a big spoon. It was hilarious!
Our dollhouse family has grandparents, parents, a son, a daughter, a baby, and two "best friend" dolls. When Julia plays with the family members she sings a little happy song and occasionally interrupts the song with a doll making a comment to another doll like "night-night". Once the interruption is gone the song resumes immediately. Her favorite dolls to play with are the kids. Emily rarely plays with the baby, but Julia does all of the time. Occasionally other toys work their way into the dollhouse. One day I noticed that a small Elmo doll was riding the rocking horse and playing in the pack-n-play with the baby.
Posted in Julia Pics |

Comments Off on Favorite Games – Julia