December 26th, 2010 by

Mommy
The girls visited with Santa in Miami this year. Santa was visiting in an ice and snow palace and after talking with him there was a snow room that had snow for kids to play in. Emily was very excited to see and speak with Santa. She showed no shyness with him. There was no line behind us so she had plenty of time to talk. Santa asked Emily what she wanted for Christmas and she told him she wanted toys and a star for the top of the tree. Santa was very kind and sweet with the girls. Julia had a different response to Santa. She cried at the idea of sitting with him. In the end, Mommy had to sit next to Santa and Julia on her lap. The girls were not sure of what to make of the faux snow, but liked to watch Mommy play in the snow and throw it into the air.
Scene 2 – The Message:
Some sweet friends of ours arranged for the girls to receive their own individual messages from Santa. We recorded the girls watching their videos. The messages were quite a hit! Emily continued to talk about what Santa told her through Christmas.
Emily's Video Message–
Julia's Video Message–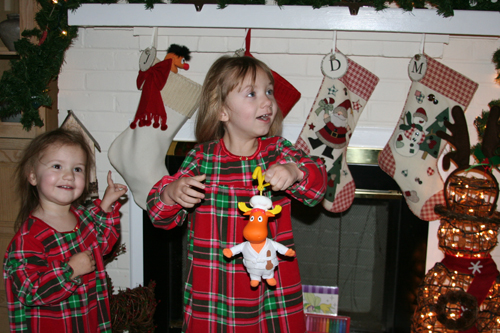 Christmas morning we found that Santa had visited the house and left lovely things in our stockings. Among what he left there was a Christmas star, princess coloring book, Backyardigans characters, Ernie doll (a Julia favorite), ponies, musical instruments, and toy kitchen utensils. The girls loved finding their stockings and were excited to empty them out. There were lots of excited proclaimations of discovery and joyful facial expressions.
Posted in Emily Pics, Julia Pics |

Comments Off on The Santa Story 2010