December 30th, 2010 by

Mommy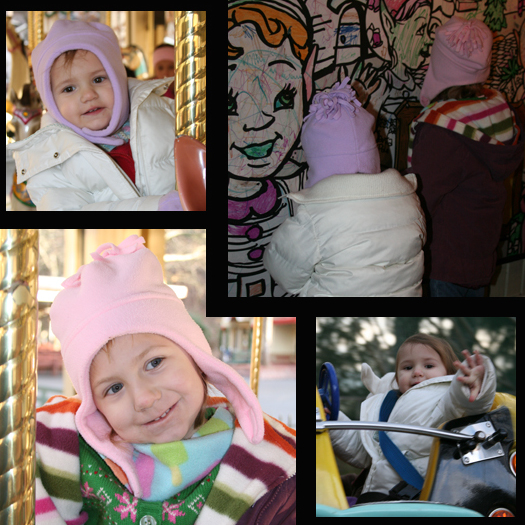 The girls and Mama visited Dollywood just before Christmas. It was a cold day, but we were bundled up and seemed to always have one more layer we could put on. Like usual the girls wanted to ride the carousel first. You have to hold tight when you are wearing mittens.
We then continued on to ride the young kid rides. Emily loves to make friends with other kids when we are at parks, and this trip to Dollywood was no different. She and a six-year old became best friends on the first ride. Emily cried when we got to the second ride because her new friend wasn't riding in the same pig. She moved to join us. But it didn't matter how good friends they were, nothing could get Emily to ride the bumblebee ride. On the other hand, Julia was thrilled to ride the bumblebee ride. They said good-bye to their new friend as she went on to ride the bigger rides. While Emily was unwilling to ride the flying bumblebee, she requested to try the Ferris wheel. I'm not sure that she would really be able to handle it, it will have to wait for a day with Daddy.
The girls discovered a mural wall that they could color. It was a blast and will be inspiring our own at-home version. Mama isn't going nuts, but I'm going to give it a try and hope all the walls in our house don't turn into murals.
We have been visiting Dollywood for months now and have never gone to a show. Between the cold weather, more kid-interesting shows, and a desire to take off some of our layers encouraged us that direction. We saw "Babies in Toyland" and found it to hold the girls interest. An hour was a long time for them, but it was fun.
We hope to go back one more time with Daddy before the year ends for more fun!
Posted in Emily Pics, Julia Pics |

Comments Off on Dollywood at Christmas