May 22nd, 2010 by

Mommy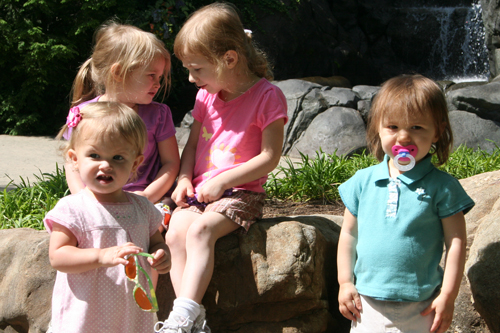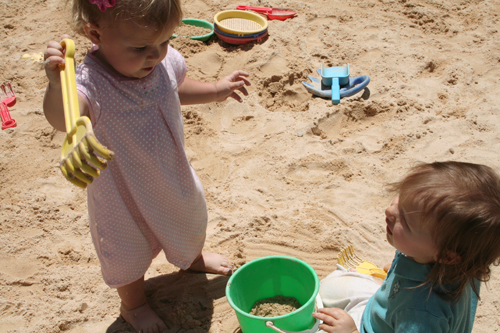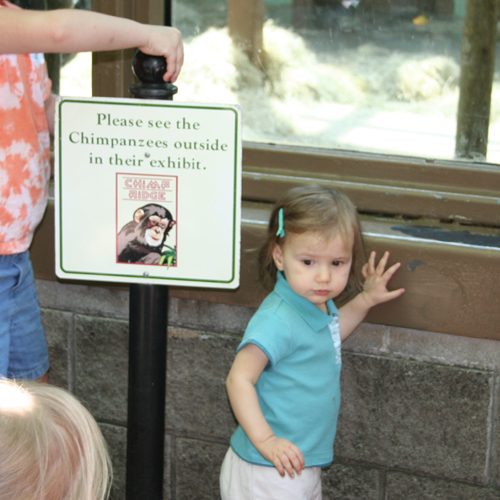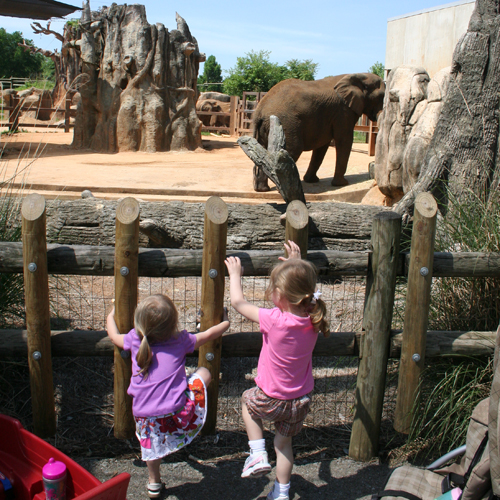 Who doesn't love the zoo? We were kindly invited by our good friends to play at the zoo and we took them up on the invite. The girls just enjoy each other so much and the mama's enjoy each other company too. It is a win-win.
We converted our double stroller to a sit-and-stand stroller and this was our first outing with it. Emily loved the new sitting arrangement. She could get out easily and she loved being able to face me. We had a lot more conversations because of the sitting arrangement.
We wandered the zoo checking out a bear, feeding camels, watching zebras eat, trying to climb a fence to see the elephant better, watching the chimps get their room cleaned, eating lunch, playing in the sand, riding a carousel, and generally having a lot of fun. Emily tripped and got her first bloody nose which was a non-event. It stopped quickly and she was distracted from it after a short crying spell. Both of my girls were unimpressed with dip-n-dots which I thought odd, but happily ate theirs. The only girl who was interested in looking at the camera to have her photo taken was Maeve, so I don't have any great posed shots. That is just going to be the case for a while longer I guess.
We discuss monkeys a lot at our house. There is a book the girls like with monkeys and Emily picks out which is Mommy, Daddy, Emily and Julia. The girls like to immitate monkeys with sound and motions. And Emily has dubbed our family as a "monkey family" with a "monkey mommy", "monkey daddy", "monkey girl", and "monkey baby". So when we got to the monkey area at the zoo, I was excited for the girls to see some monkeys. To my disappointment, while we were able to see them, we did so only through a gated wall where they were waiting for the monkey house to be cleaned. Then I noticed the special sign the zoo keeper had put out and Julia's interest in hanging out by the sign. If you take the word "in" out of the statement you can truly appreciate the "monkey baby" outside the exhibit.
Posted in Emily Pics, Julia Pics |

Comments Off on Zoo Day