May 19th, 2010 by

Mommy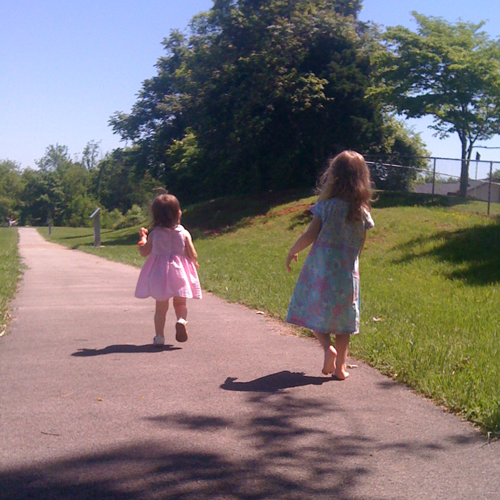 With summer come the end of all our normal weekly activities. Last week was the end of three of these activities. Our swim class, Thursday school, and Bible Study Fellowship. We have a few more weeks of Little Gym before the spring classes end.
The swim class was only eight weeks long, but it was a fun eight weeks. We splashed, swam, and bobbed our way through them. I was so proud of Emily and her interest in swimming. She enjoyed her teacher, liked to preform for her, and was getting a sense of being in the water under her own steam. Julia still wasn't "fearful" of the water so it was fun to do things without her clinging to me. She didn't like to float on her back, but enjoyed most of the other activities. She would "swim" between the teacher and her Mama, practice her crab walk along the pool edge, swim to a ball she would throw out in the water, and sing motion songs with the class. We are planning on both girls to take the fall version of the class again.
Thursday School was both for Emily and Julia. The class gave Emily the opportunity to learn to play with others along with learning life lessons. It also gave Julia some special Mama time. We would go to Mother Goose together, shop, eat breakfast, play, and see our friend Maeve.
Bible Study Fellowship was an opportunity for all of us to have some constructive time of learning. Mama enjoyed her study of scripture, Emily loved spending the morning with her class and striving to be the class leader, and Julia played her morning away with other toddlers and snacks. Out of all our activities this one was the most regimented. I could see such growth in Emily with her group participation and living up to high expectations. What a joy! After class we would walk a special sidewalk out to our car. Emily kept wanting to walk further on the sidewalk, so I started parking at the end of the sidewalk so that she could enjoy walking the whole way.
There are so many fun activities to fill our summer with, but this week will feel a little empty without the activities that have come to define our week. Emily typically asks each day where we are going or what we are doing. We will just have to enjoy each day and what fun activity comes with each one.
Posted in Emily Pics, Julia Pics |

Comments Off on The End of Things