April 27th, 2010 by

Mommy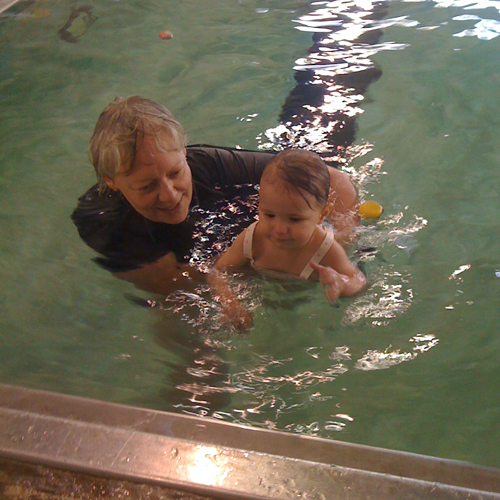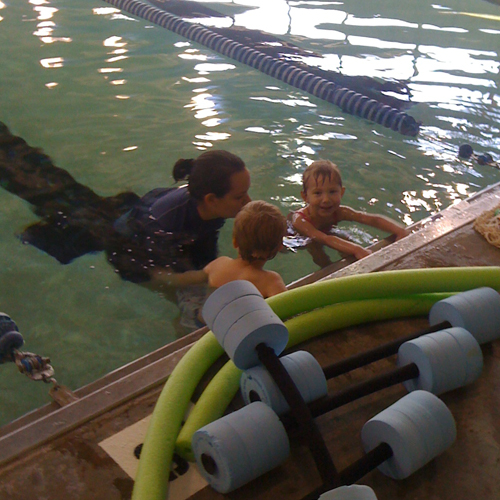 The girls have been taking swim lessons. Emily is in her own level I class and Julia and I are taking a "Mommy and Tot" class together. I was fortunate and they are teaching the two classes at the same time so we all can participate.
Emily has been doing really well. Previous to this class she would swim with water wings, so this class has been a lot of getting used to how her body feels in the water without a flotation device. She has been very willing to try new things. With the help of her teacher and a buoy she swam the length of the pool and back, she has swum under the lane divider, she will bob her face in and out of the water, and she is having a lot of fun. I asked Emily what her favorite thing to do in the pool is and she said to hold the side of the pool with her hands and feet.
Once Julia gets used to the temperature of the water she is having a good time with Mommy. We sing songs, bob in and out of the water, practice holding to the edge of the pool, throw and swim to balls, put our face into the water, and get dunked once each lesson. She hasn't gotten fearful of the water yet and is enjoying all the water. One of her favorite things to do is to look for Emily in the next lane. This past week she actually saw Emily kicking her feet while swimming and Julia imitated the kick motion. Her other favorite thing to do in the pool is to throw and fetch a ball.
We are hoping to have a lot of opportunities to practice what we are learning this summer in the pool!
Posted in Emily Pics, Julia Pics |

Comments Off on Swim Lessons