February 26th, 2010 by

Mommy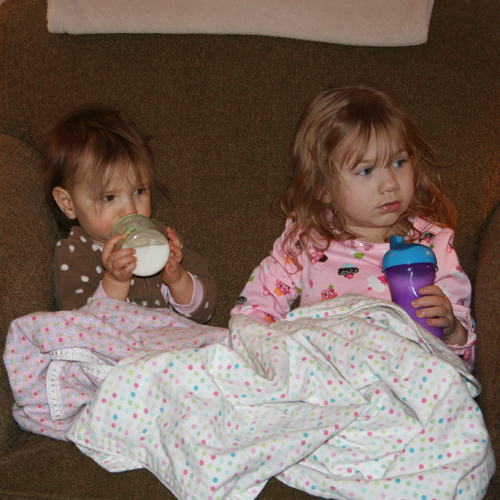 No day is ever perfect, but we have been stringing a few good ones together this week. It is nice to see that the little ones can express their individual spirit and still follow rules and advance in their play and skills. This is just a highlight list of some positives from this week:
Julia had quit eating veggies and meat about a month ago and started eating baby food again- one dinner this week she was disinterested in her baby food and kept pointing excitedly at Mommy's plate. I gave her a green bean from my plate and she ate it and asked for more. She finished off all of my green beans and some of Emily's. This hasn't been repeated again, but reminded me that we will not eat baby food forever.
Emily has been willing to go to the potty, but never took the initiave. Today when I picked her up at mother's day out, she went potty and wouldn't let me in the bathroom stall – she did it all by herself. Later in the day she took herself to the potty at home without a reminder from Mommy. This is a big deal for our house!
Intereactive play with the girls has been so sweet. This evening the girls were cooking with their kitchen stuff and Emily was taking them to the store to buy more food. The two girls ran up and down the hall with the stroller doing the shopping together. Sometimes Emily follows Julia and other times Julia follows Emily around playing together.
Emily has been struggling to go to bed and fall asleep without the aid of her pacifier. She has been getting up a lot, sleeping on the floor, sleeping on the couch in the middle of the night, and skipping naps. We have tried several different routine changes to see if we could find something to help her without much success. This is just one of the hard things in life you have to figure out on your own. Today she laid down for her nap and then again tonight for bed and went on to sleep without games and struggle. I think it helped that she has been pretty tired, but I will take what we can get.
Posted in Emily Pics, Julia Pics |

Comments Off on Good Days