September 27th, 2009 by

Mommy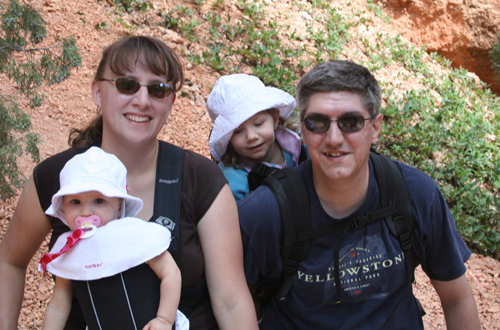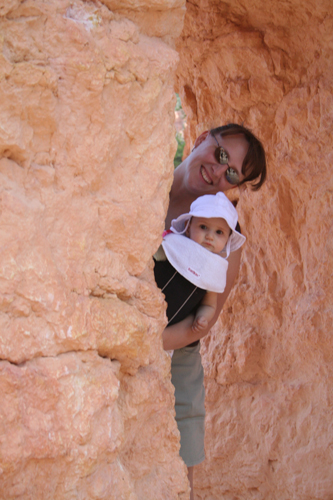 Julia was a great sport on this trip. Of the little freedom she has, she didn't get to exercise it much. I think one of her favorite things to do on our trip, other than eat snacks, was getting into the front pack and going. It meant that she was with a parent, her legs were free to kick, and there was lots to see.
One of the must-dos for our trip was to hike in Bryce Amphitheater. There is a fairly steep hike in and out, but once at the bottom you get to hike between the amazing rock formations. Julia got to ride in the front pack with Mommy kind of out of default, because there was no way I could carry Emily on her back for 3 miles. Carrying Julia is a bit like being pregnant again, you can't see in front of you and your feet are lost again. We went down slowly so that we could both enjoy the views and make sure we had good footing. This portion of the hike had really cool trees that were growing up around the the rock formations.
Julia was the entertainment for all of the other hikers. She had lots of smiles and sweet words from other hikers. She would kick her feet and wave her arms at the other hikers like she was thanking them for their attention. My favorite example of this was the bus full of retired French tourists. While we know no French we heard a lot of 'Bébé' and 'Oo-la-la'.
Daddy had the pleasure of carrying Julia out of the Amphitheater. It was a good change of pace for his back. When we were done we had a well deserved snack of apples, cheese, and crackers. Julia snacked and then crashed in the car for a nap.
Posted in Emily Pics, Julia Pics |

Comments Off on Hiking Bryce Amphitheater – Julia