December 25th, 2008 by

Mommy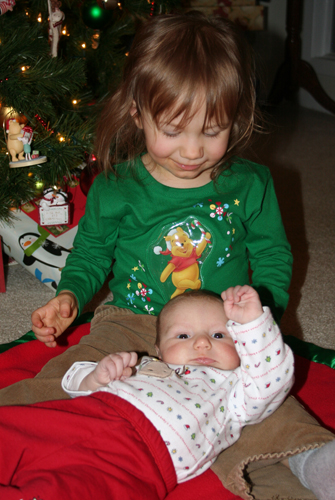 Merry Christmas! We are looking forward to this Christmas – the joy of Emily opening gifts and hugging on Julia.
A few funny stories from Christmas Eve.
We took the girls to our church's Christmas Eve service. Emily is becoming even more verbal with each day. The side effect is that during the service Emily decided to be chatty and talk to the little boy in front of us. He was very interested in looking at Emily's blinking shirt. She was quite distracting, so I took her to the back of the room. As the service continued, two other almost two year old children proceded to have the same problem and arrived in the back of the room too.
We opened a few gifts on Christmas Eve to see how Emily did with the gift opening. She loved wearing the bows and adorning Daddy and Julia with the bows. She like ripping the paper to see what was inside. She liked the idea of trying on a sweater, she wanted to read a book, and she wanted to play with the toy. It was a lot of fun. The whole time Julia laid on her Christmas blanket and watched the activity.
Posted in Emily Pics, Julia Pics |

Comments Off on Merry Christmas