December 15th, 2008 by

Mommy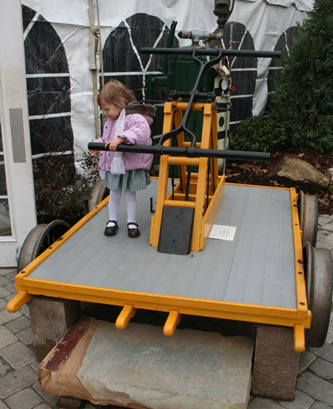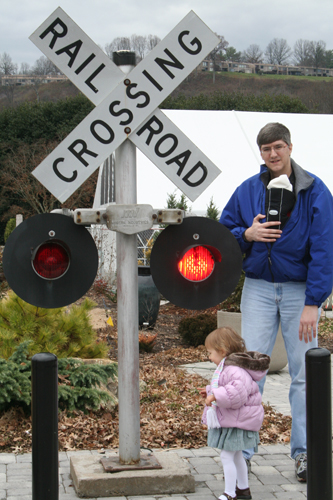 We took the girls to see a local outdoor train display after church on Sunday. The collection included a number of trains depicting different eras of East Tennessee train history and some actual train equipment including the crossing sign and pump car. There was a train hauling lumber to a mill, one hauling coal from a mine, a Southern engine pulling passenger cars, a CSX engine pulling container cars, a Chessie train, a UT Volunteer train, a marine life transport train, and I'm sure some others that I can't remember.
The day was cool and we were all bundled up. The train exhibit was inside of a tent so it was a lot more comfortable inside. Emily enjoyed her freedom while exploring around the equipment and train set. She wasn't very interested in posing for photos, so Mommy had to settle with 'action' photos. Emily was very tempted to touch the trains as they ran by us, but she resisted.
Julia enjoyed the activity from the front pack that Daddy wore. Daddy tucked her tiny feet into his coat to help keep her warm. At this point she likes to lay her face up against the person carrying her and go to sleep. I can't imagine anything sweeter. This is how she spent the whole event.
After exploring the trains and equipment we took a cold stroll in the gardens. Emily followed Daddy for a while, but then decided that we needed to take a different trail. After that she picked the paths.
We were happy to warm up in the car on our way home as Emily took her afternoon nap in the car with Julia. We are hoping that this display will become a yearly tradition so that we can pass on Mommy and Grandpa's love of trains on to our girls.
Posted in Emily Pics, Julia Pics |

Comments Off on Holiday Trains