October 25th, 2008 by

Mommy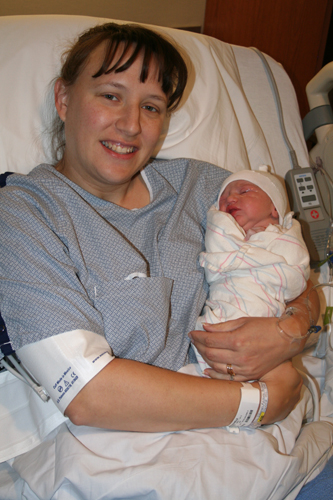 This was the second time that I was able to hold Julia after her birth. You can still see the newborn eye medication still on her eyes. At this point, I was just enjoying watching the activity of the room and the special care that was being given to Julia. During Emily's delivery, I was pretty groggy afterwards, and I couldn't pay much attention. Robby was juggling calling friends and family and taking photos, Grammy was taking her own photos and following Julia around the room, the nursing staff was getting foot prints and making measurements, and the doctor was checking over me to make sure I was ok and telling me what a wonderful little girl had just arrived.
I had wondered for 9 months what this little child was going to look like when she came. It is hard to imagine something that is different than what you have already seen in another child. In this case, we were right to imagine Julia to be like Emily. It was amazing to see Julia and all of the similarities to Emily. One of the most striking likenesses is their dark brown hair. They both had so much hair which they also have on their backs and shoulders. Robby and I both don't want to spend much time comparing the girls because we want to celebrate each of their uniqueness, but it surprised us how similar both of these girls are. I'm sure they will spend their lives exploring their differences and what a joy that will be to see them develop.
Through the whole pregnancy and especially at the end, I have seen the grace of God in my life. I want to express my gratitude for His provision and great care. At the moment of birth for each of my daughters I was caught in an emotion that I can not express. In those moments I felt for my daughters what I imagine that my Heavenly Father feels for me. Words are insufficient for how grateful I am to God for everything He is and does. The windows that we have into the love that God has for us are precious and I pray that I will remember this one for my whole life.
Posted in Julia Pics |

Comments Off on One Happy Mommy