September 10th, 2011 by

Mommy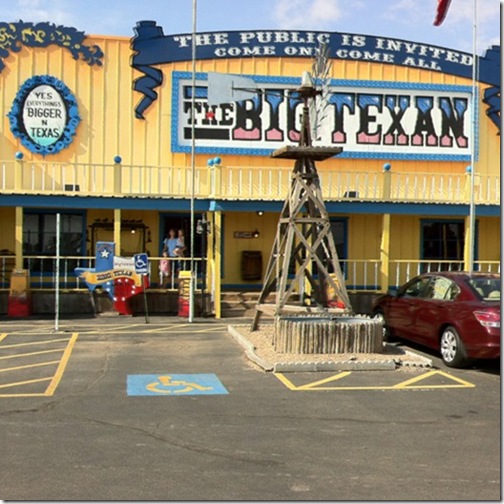 The wonders of traveling America and the things you can find. This classy joint will cook you up a great steak dinner in the ambiance of saloon meets . . . not really sure what. There really isn't any way to explain the Big Texan, but to stop by and see for yourself. Maybe it is the Texan version of Wall Drug. It may be corny, but for the girls it was amazing. They loved the color and all the visual entertainment found inside. They loved looking at the sample meal placed to demonstrate how much food was in the 72 oz. of steak dinner. They mostly loved their new cowgirl hats they got with their dinner.
When we sat down to eat all Emily would talk about was they new hat she would be getting. She decided that she wanted her hat to be blue. Lucky girl, when dinner came they brought her a blue one. Only two disappointments about our visit: one was that no one was attempting the 72 oz. challenge while we were there, the second was that the cowboy band was not playing. We were eating a late lunch/early dinner and there were not many people there to eat. Bonus was that we got in and out quickly and could drive several more hours after stopping to eat.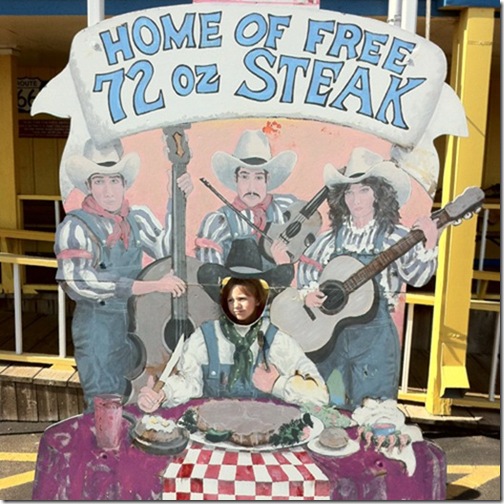 Emily and her own special cowboy band.
Posted in Emily Pics, Julia Pics |

Comments Off on The Big Texan